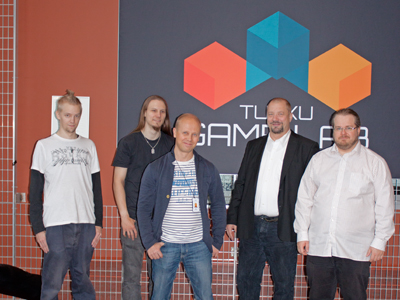 One example of the local co-operation has just recently got started in Turku Game Lab. The project with a Turku-based company IndustrySim combines several traditional engineering sciences such as IT, Game Technology, Process Technology, Energy Technology, Mechanical Engineering, Environmental Sciences and Media Technology.
The learning game dealing with process and energy industry is targeted to educational purposes as well as to everybody interested in the field. TUAS has an expert role in this game development process.
– When the learning game about process and energy industry is completed, it is aimed at all 14-110 year olds who are interested in connecting industry and general well-being, explains CEO Tomas Rosin from IndustrySim.
Rosin, graduated as MSc (Engineering) in the 1980's has been an entrepreneur since 1992.  The opportunities that the games give for highlighting the importance and meaning of the process industry make him exited:
– The learning game under progress shows in a fun and motivating way how the industry works in practice. The user can build a plant, start the related processes and also reflect them with financial viewpoints, continues Rosin.
Pekka Qvist, Director of Technology in IndustrySim, who has been working with learning games for several years, found CEO Rosin with the help of Principal Lecturer Mika Luimula. Rosin and Qvist have now combined their expertise and competences in industry and game technology into IndustrySim. Together they complement each other in game development project.
Even if the game simulates the real business life, it will be a fun and interesting product with state-of-the-art graphics, promise the developers.